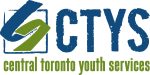 Website CTYS_Youth Central Toronto Youth Services
Community-based, accredited Children's Mental Health Centre
Central Toronto Youth Services (CTYS) is seeking a talented and dedicated individual to join our team as Manager of Client Services in the R.I.T.E.S. Program. This is an incredible opportunity to collaboratively shape responsive and innovative mental health programming and services for Black, African Canadian, Afro Caribbean and Afro Latinx youth and their families. As an accredited, progressive Children's Mental Health Centre, CTYS provides a range of mental health services and supports to youth, young adults, and their families across Toronto. Services in the R.I.T.E.S. Program include therapeutic groups, individual counselling, and a youth justice pilot program.
Primary Responsibilities:
• Provide direct clinical supervision and staff support.
• Sustain collaborative working relationships with Black/ African Canadian communities, mental health care providers, TDSB/ TCDSB schools, Courts, Probation Officers, Elders and crisis services.
• Provide leadership in maintaining collaborative and efficient staff teams and oversee all admin functions pertaining to staff and the programs.
• Provide advocacy and structural leverage for staff teams around issues of equity, anti-Black racism and social justice.
• Participate in the selection of evidence-based and evidence-informed practices, and implement the selected practices, inclusive of monitoring effectiveness.
• Support management leadership initiatives centering and fostering equity, inclusion and anti-racism.
• Ensure clinical services are delivered in a manner consistent with all applicable agency policies and procedures, legislation and accreditation standards.
• Ensure performance measurement data guides and informs quality improvement and service development.
• Shared responsibility for budget development and monitoring.
• Provide clinical and/or administrative coverage for other CTYS programs as needed.
Qualifications, Skills and Knowledge:
• Identify as a member of the Black, African Canadian, Afro Caribbean and/or Afro Latinx community.
• Degree in a relevant discipline or equivalent combination of education, experience and training (Graduate Degree preferred).
• Minimum of 5 years related experience working in children's mental health with youth and families inclusive of program management experience
• Membership in the appropriate professional regulatory body (RSW, RP).
• Demonstrated skills in assessment, formulation and coordination with youth and families.
• Knowledge and understanding of group programming, dynamics and facilitation.
• Commitment to practicing from anti-oppressive, anti-racist, equity and trauma informed frameworks.
• Thorough familiarity with pertinent legislation including the Child and Family Services Act, Youth Criminal Justice Act and the Personal Health Information Protection Act.
• Experience supporting virtual services is an asset.
• Proficiency in French language an asset.
• COVID vaccinations required.
Compensation & benefits:
Competitive salary, Employer contribution based RRSP, Extended Medical & Dental Health Benefits, flexible work hours, & professional development days.
Start Date: ASAP
Please submit a letter of application with resume by: May 23rd, 2023
Central Toronto Youth Services
65 Wellesley St. E., Suite 300, Toronto, ON, M4Y 1G7 Fax: (416) 924-2930
Email: resumes@ctys.org