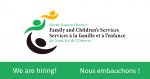 Website North Eastern Ontario Family and Children's Services
EXECUTIVE DIRECTOR
North Eastern Ontario Family and Children's Services is seeking a dynamic, team building leader with the ability to engage a dedicated workforce to serve children, youth and families and to promote the Agency's mission, vision, and values. The ideal candidate is able to build collaborative relationships with internal and external stakeholders, including applicable Ministries and is a strong and strategic communicator bringing stability and vision to the Agency. The ideal candidate is adept at recognizing strengths and develops a strong and open culture of trust, respect, fairness, consistency, diversity and inclusiveness.
The candidate must possess a Master's Degree in Social Work, or equivalent experience and education with a minimum of three years of managerial experience in a Child Welfare/Children's Mental Health setting. The ideal candidate is fluently bilingual in both official languages and has proven skills in leading, motivating and managing a talented workforce and building a caring, committed and inclusive workplace. The ideal candidate is experienced in leading strategic and operational planning initiatives, including client focused service delivery and quality, human resources, financial planning and reporting, with demonstrated success in maintaining balanced budgets with existing resources. Above all, the ideal candidate is a strong advocate for children, youth and families inspiring those who provide direct service to clients and serving the communities in which they live.
The job description for this position is available upon request.
Please submit your resume by: December 31, 2021
Quote Competition # 21-74
Send Resume and Cover Letter via email to: recruitment@barnesmanagementgroup.com
For more employment opportunities please visit our website at www.neofacs.org
North Eastern Ontario Family and Children's Services only accepts resumes that are received by the email address above. We thank everyone for their interest in North Eastern Ontario Family and Children's Services; however, only those selected for an interview will be contacted.
NEOFACS is committed to an inclusive, barrier-free selection process. If contacted regarding this competition, please advise the interview coordinator of accommodation measures you may require during our selection process. Information received relating to accommodation needs of applicants will be addressed confidentially.
Working together for the well-being and safety of children, youth and families.