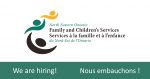 Website North Eastern Ontario Family and Children's Services North Eastern Ontario Family and Children's Services
North Eastern Ontario Family and Children's Services
CHILD AND FAMILY INTERVENTION CLINICIAN – REGISTERED
Twelve month (12) Full-time Contract Position in Kirkland Lake
As a member of the Child and Family Intervention Clinician team, the Child and Family Intervention Clinician will provide therapy and clinical assessment to children, adolescents and their families. The successful candidate will be self-motivated, resourceful and innovative, working within a dynamic, multi-disciplinary team of professionals.
JOB REQUIREMENTS (QUALIFICATIONS AND SKILLS):
• Master in Social Work, Master of Arts in Psychology, Master or Arts in Counselling Psychology, or post-graduate degree in psychotherapy, Master of Arts in Psychology or Master of Arts in Counselling Psychology is preferred. A Bachelor of Social Work, Bachelor of Science in Nursing, Bachelor of Science or Master of Science in Occupational Therapy deemed suitable by the Executive Director, along with relevant experience may also be considered.
• Must be a member in good standing, or able to register with the Ontario College of Social Workers and Social Service Workers (OCSWSSW), the College of Registered Psychotherapists of Ontario (CRPO), the College of Nurses of Ontario, the College of Psychologists of Ontario or the College of Occupational Therapists of Ontario in accordance with the Psychotherapy Act. Membership to the respective College must be maintained annually.
• Clinical skills in the area of children's mental health.
• Ability to work effectively and collaboratively with other professionals.
• Excellent communication, interpersonal and organizational skills.
• Bilingualism is required.
• Must have a valid driver's license and use of own vehicle.
• Must provide government-issued evidence of receipt of 2nd Health Canada approved COVID vaccination dose at least fourteen (14) days prior to your start date, or evidence that you qualify for a human rights exemption.
The job description for this position is available upon request.
Please submit your resume by: December 3, 2021
Quote Competition # 21-84
Send Resume and Cover Letter via email to: humanresources@neofacs.org
For more employment opportunities please visit our website at www.neofacs.org
North Eastern Ontario Family and Children's Services only accepts resumes that are received by the email address above. We thank everyone for their interest in North Eastern Ontario Family and Children's Services; however, only those selected for an interview will be contacted.
NEOFACS is committed to an inclusive, barrier-free selection process. If contacted regarding this competition, please advise the interview coordinator of accommodation measures you may require during our selection process. Information received relating to accommodation needs of applicants will be addressed confidentially.
Working together for the well-being and safety of children, youth and families.