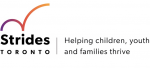 Website Strides Toronto
ABOUT US
Strides Toronto is a multi-service agency providing a wide range of exceptional programs and services that improve the mental, social and physical health of infants, children and youth from the pre-natal stage to age 29, and their families. With a range of community, residential and treatment services, we build strength and resilience through equitable, accessible, client-driven services, system leadership and advocacy. We provide individual, group and family interventions that include mental health counselling, autism services, education, outreach and referral, early intervention, day treatment and community support. In its Lead Agency role, Strides Toronto collaborates with 23 publicly funded infant, child and youth mental health (ICYMH) core service providers to design and implement system-level improvements that promote access, responsive service delivery and experience, and positive mental health outcomes for young people and families across Toronto's diverse communities. To learn more about who we are and what we do, we invite you to visit our website at www.stridestoronto.ca
ABOUT THE ROLE
The Program Coordinator, Provincial Youth Outreach Worker Program (PYOW) is a permanent full-time position that supports the ongoing operations of the Provincial Youth Outreach Worker Program including overseeing the Provincial database, providing support for users, coordinating the production of reports, providing training and onboarding for staff across the Province, overseeing access to the online learning portal and supporting other program development projects and initiatives.
Salary range: $55,750.00 to $64,921.00 per annum.
Benefits:            Competitive Group Health Benefits, Defined Contribution Pension plan.
                               This position is represented by OPSEU local 567.
                               This is a full-time permanent role.
WHY JOIN OUR TEAM?
We provide a hybrid work model and competitive Group Health Benefits and Pension Plan.
We provide opportunities for growth and professional development.
We are committed to providing an equitable and inclusive environment where our diverse team members and clients can thrive.
We have a collaborative and supportive Senior Management Team.
We set high standards for performance, client outcomes, and implement best practices, which are demonstrated through our accreditation with the Canadian Centre for Accreditation.
WHAT YOU WILL DO
Ensure the day-to-day operation of the TREAT database functions, including managing database related inquiries, working with agencies to enhance data entry accuracy, and producing reports to ensure ministry reporting requirements are met.
Coordinate and deliver trainings and program orientation for new and existing program staff, including the onboarding to the program database and learning portal.
Identify program staff needs via evaluation of reports and program surveys to develop new training opportunities.
Lead and co-lead various projects to ensure the efficient and timely completion of project deliverables.
Lead and support committees and groups to help organize learning opportunities and events for the program network and other program development projects.
Conduct research and various activities to contribute to the development of the provincial youth outreach worker program and its evaluation plan.
THE "MUST HAVES"
The following education, professional memberships and knowledge are a requirement for this role:
Related Bachelor's Degree (Master's preferred) in Social Science or Human Services.
3 years of related professional experience.
Experience with database and Information Management System applications.
Having training and experience in Project Management.
THE 'NICE TO HAVES'
While not required, preference will be given to candidates with the following:
Project Management Professional Certification (PMP) would be an asset.
Graduate Certificate/ Diploma in Information Management or Health Information would be an asset.
Knowledge on Youth Sector and Mental Health in Ontario.
Ability to analyze information, problem-solve to make appropriate decisions/ recommendations.
Knowledge in PHIPA, FIPPA, and other confidentiality standard acts.
Ability to communicate effectively across a large network of program staff.
BEFORE STARTING WITH US 
As our work puts us in direct contact with young people and vulnerable persons in our community, with health and safety as a priority, the successful candidate must complete or obtain a Vulnerable Sector Police Check before commencement of their employment.
HOW TO APPLY
Please submit a cover letter and resume outlining your demonstrated education, certification (if applicable), working and related volunteer experience and how you meet specific requirements for this position, and any additional considerations you deem appropriate. The application deadline is September 12, 2023.
Strides Toronto is an equal opportunity employer. We benefit from diversity of lived experiences in the workplace and encourage applications from qualified candidates who reflect the diversity of the communities we serve.  Strides Toronto is a participant in the Government of Canada's 50-30 Challenge, a program which challenges organizations to improve access for women and/or non-binary people and other equity-deserving groups, including those identifying as: racialized, Black, and/or people of colour, people with disabilities (including invisible and episodic disabilities), 2SLGBTQ+ and/or gender and sexually diverse individuals, and Aboriginal and/or Indigenous Peoples to  increase the representation and inclusion of diverse groups within their workplace.
In accordance with the Ontario Human Rights Code, Accessibility for Ontarians with Disabilities Act and Strides Toronto's own policies, requests for accommodation will be considered throughout the hiring process.
We thank all applicants however, only those selected for interviews will be contacted.