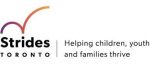 Website Strides Toronto Strides Toronto
Strides Toronto
EMPLOYMENT OPPORTUNITY
Posting #
INTAKE AGENT– MENTAL HEALTH T.O. (MHTO)
Mental Health T.O is a free telephone referral- based service that connects infants, children, youth and their families between the ages of 0 to 18 to the appropriate mental health and addiction services in their communities. MHTO is also the access point for the What's Up Walk In network that serves clients up to age 29.  We are looking for someone to join our team consistently on Saturdays; and 2 other positions that will be able to cover shifts as they become available.
2 positions available – 1 part-time (Saturday), 1 relief shifts
Strides Toronto is a multi-service agency providing services to young people from birth to age 29 and their families in East Toronto. Formed in January 2020 through the amalgamation of Aisling Discoveries and East Metro Youth Services, Strides Toronto provides a range of community, residential and treatment services to improve the mental, social, and physical health of infants, children, youth and their families. We provide individual, group and family interventions that include mental health counselling, autism services, education, outreach and referral, early intervention, day treatment and community support.
As Lead Agency for infant, child and youth mental health in Toronto, Strides Toronto works with 26 core service providers to design and implement system-level improvements that transform access to services, experience of services and the mental health outcomes for Toronto's diverse communities.
Strides Toronto has a budget of $30 million and more than 350 employees providing services out of 19 locations across East Toronto. The organization Is accredited by the Centre for Accreditation and the predecessor organizations have a long history of providing high-quality services in East Toronto.
Why work with us?
Be part of a long history of leadership and evidence informed practice in child, youth and family service.
Join a skilled and dedicated team who are passionate about achieving our vision of an inclusive and supportive community where children, youth and their families thrive.
Experience opportunities for growth and professional development.
Be committed to creating a positive and rewarding work environment.
Share an organizational culture of on-going learning and quality improvement.
Bring high standards for performance and implementation of best practices and demonstrated through our accreditation with the Canadian Centre for Accreditation
Expect a competitive salary and comprehensive benefits package.
Join a diverse and inclusive work environment with staff who speak more than 23 languages.
What will you do?
Provide responsive, accessible intake services to callers
Interpret, analyze and determine the caller's situation as to refer callers to Infant, Child and Youth Mental Health services in the city of Toronto.
Connect callers to virtual services with the What's Up Walk In network
Provide support/redirection if the caller or the subject of the call are in crisis.
Utilize HEADS-ED screening tools to assist in the triage of new referrals.
Maintain professional standards of practice in accordance with Strides Toronto policies and procedures, Canadian Centre for Accreditation (CCA) standards, and relevant legislation.
We are looking to hire a regular Saturday staff; in addition to create a roster of staff that are available to cover shifts when there are staff shortages or staffing emergencies- must be available to take shifts at short notice
What are we looking for?
·       CYW diploma.
·       Minimum of 2 years-experience working in an intake capacity with children and youth with serious mental health problems.
·       Ability to use judgment and decision-making skills to evaluate needs.
·       Excellent verbal and written communication skills.
·       Excellent customer service skills.
·       Excellent organization skills and ability to multi-tasks.
·       Be comfortable working within a systematic framework where some ambiguity will be present.
·       Be comfortable using telecommunications systems, which may include broadcasting, databases with codes/abbreviations, and other technologically appropriate operations and procedures used by CPA.
·       Good understanding of geographical locations of communities and services within Toronto.
·       Ability to work and support others in the context of culturally diverse youth and families.
·       Ability to work independently and develop and maintain cooperative and professional relationships with fellow employees, representatives from other departments and agencies.
·       Computer proficient (Knowledge of Excel and Access Data Base and SPSS, etc.)
·       Preferred candidates will be bilingual in both official languages.
·       Vulnerable sector screening police background check.
Additional Assets
Fluency in another language(s).
Additional Information
This role is a part of OPSEU Local 567 bargaining unit.
Salary range from $28.87 to $33.96 per hour
How to Apply
Please submit a cover letter and resume outlining your experience and how you meet the requirements for this position.   The application deadline is July 23, 2021.
Strides Toronto is an equal opportunity employer.  We welcome diversity in the workplace and encourages applications from qualified candidates who reflect the diversity of the communities we serve.
In accordance with the Ontario Human Rights, Accessibility for Ontarians with Disabilities Act and Strides Toronto's own policies, requests for accommodation will be considered throughout the hiring process.
We thank all applicants however, only those selected for interviews will be contacted.