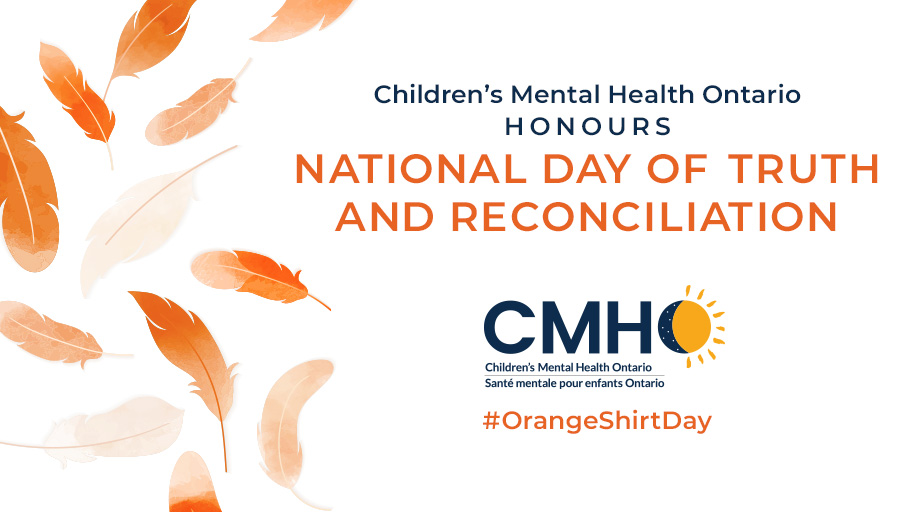 On September 30th, the National Day for Truth and Reconciliation, Children's Mental Health Ontario is taking the opportunity to acknowledge the history of residential schools – to honour their survivors, mourn the lives of children lost and to acknowledge the ongoing intergenerational trauma and impact that the residential school system continues to have on the lives of Indigenous peoples across this land. Please note, our office will be closed September 30th.
Children's services including mental health treatment, youth justice and children's aid, have long histories of contributing to systems of power and privilege that have oppressed and marginalized First Nations, Metis and Inuit children, youth and families.  We have a responsibility as a sector to advance work that contributes to the decolonization of mental health care and supports Indigenous-led solutions and practices for Indigenous families.
On September 30, Native Child and Family Services of Toronto will be hosting a webinar panel discussing the challenges and opportunities for transforming child welfare services. More information and the link to register can be found here. 
As settlers, we have work to do to educate ourselves and confront how we have and continue to, benefit from colonialism and operate in systems that have been built to perpetuate systemic oppression and discrimination. Today and every day we must recognize the personal and collective roles and responsibilities we have to reconciliation and de-colonization.
Ahead of September 30th, we would like to share some resources – books, podcasts, webinars and events – that may be a part of your reconciliation journey, learning and unlearning. Thank you to our member agencies, our staff and friends, who shared these resources with us. Please feel free to share with your teams and friends. 
Webinars
CMHO Webinar: Health Equity and Anti-Indigenous Racism
Date and Time: September 29 2:00 PM – 3:00 PM
Description: This webinar will explore the history of systemic racism faced by Indigenous communities in Canada and will discuss the importance of addressing these deeply-rooted inequities in order to improve mental health outcomes for and provide culturally appropriate services to Indigenous children, youth, and families.
Register here
Native Child and Family Services of Toronto: Decolonizing Child Welfare
Date and Time: September 30 9:00 AM – 10:30 AM
Description: Community leaders will be speaking on the challenges and opportunities for transforming child welfare services following the first five Calls to Action of Canada's Truth and Reconciliation Commission. 
Register here