How the Pandemic Impacts Children's Mental Health
We know that the pandemic has been challenging for most families, but it has been especially hard on those families with children struggling with mental health.
In Return to School During COVID-19: Considerations for Ontario's Child and Youth Community Mental Health Service Providers, Children's Mental Health Ontario and its partner, Ontario Centre of Excellence for Child and Youth Mental Health, report on how the pandemic is impacting the mental health of children, youth, and their families. The report also outlines existing evidence on the mental health impacts of previous outbreaks and school transitions to help us better understand how COVID-19 may affect children, youth and families in the longer-term.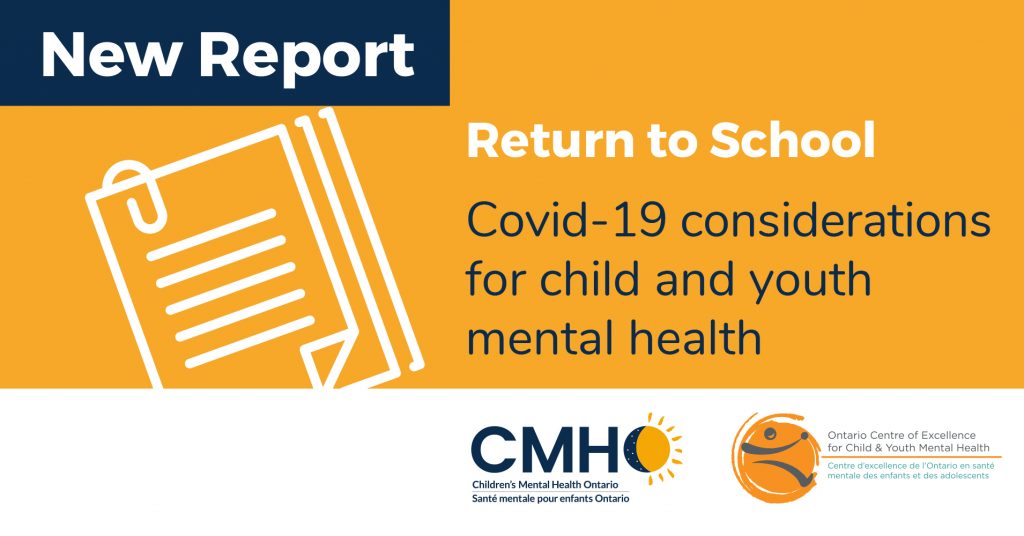 Social isolation, removal from school and daily routines, as well as isolation and loss associated with illness are some of the top stressors children are facing. Like so many adults, too, our children are also feeling the impacts of so much uncertainty around how long the pandemic will go on for.
A Return to School
Even in a normal year, the start of the school year brings new challenges and concerns to the forefront of many families across Ontario.
School transitions, including the return to school routine after a summer break can be very stressful on children and youth. Some children struggle with socializing and peer relationships, fear bullying, or face challenges orienting to a new environment. Add to typical back-to-school stressors that kids will now be returning to school in the middle of an ongoing global pandemic. 
New stressors for children and youth
Children may be feeling new worries about bringing germs home, or they may be facing stress about the changes in school routines and classmates. Some may want to avoid school because of bullying or because they struggle with managing their mental health at school, and others may experience separation anxiety.
And while going to school in the fall may help to reduce the feeling of isolation that some of our children are experiencing, we know that school will be very different than the way it was in March. There is a lot of uncertainty around what the start of school may look like, not to mention worries about a possible second wave of the virus in the fall.
Some children are especially vulnerable to mental health issues, particularly those with pre-existing mental illness, complex support needs, or those who have undiagnosed mental health concerns. Children and youth who have personally been affected by COVID-19 through illness or loss or those living in low-income or racialized communities are also vulnerable.
Pandemic Impacts on Children's Mental Health
Return to School During COVID-19: Considerations for Ontario's Child and Youth Community Mental Health Service Providers draws on existing knowledge about the impacts of previous infectious outbreaks and emerging evidence and theories about COVID-19. Scholars have identified interrelated sources of distress young people may be experiencing currently. These include, but are not limited to:
Stress associated with fear that family members, friends or they themselves will become ill/infected by the novel coronavirus
Stress associated with uncertainty around the duration of the pandemic, vulnerability to infection, physical distancing measures, and longer-term impacts of the social and economic upheaval both locally and globally.
Stress resulting from intensified media coverage (risk-elevating messages can amplify anxiety; social media can be a source of misinformation).
Potential neurological effects of COVID-19 itself.

 

Adverse social and economic impacts of physical distancing, quarantine and isolation including: 

Loneliness; grief and bereavement complicated by physical distancing measures.
Stigmatization – particularly for individuals infected with – or believed to have been exposed to – the virus (including health care and other essential services workers).
Financial insecurity and challenges in accessing basic needs.
Tensions in relationships and domestic violence related to household confinement.
Access to health, community and social supports – e.g. many children access supports through schools, which have been closed in order to contain the disease.
Another consideration is the impact on children and youth who have been receiving additional support services (e.g. OT, PT, speech-language, special education, mental health) while schools have been closed. They may require a transition plan to ensure there is no disruption in supports and continuity of care.
How the pandemic is affecting youth
Young people are telling us that their mental health has been impacted by the pandemic, and many who were already getting mental health support before the pandemic are experiencing worsened symptoms. In a survey conducted in the early days of the pandemic, nearly two-thirds of youth said that their mental health had gotten worsen since the pandemic. Over 60 percent of youth reported feeling a combination of worried, upset, sad and angry about the abrupt end to the school year, ability to see their friends, and uncertainty about the future.
Note for youth
If anxiety is causing you to have stomach aches or headaches or if you are often feeling extremely sad and hopeless, recognize that asking for help is part of self-care. Call a child and youth mental health centre near you. If you are having thoughts of self-harm or suicide, please reach out to our child and youth mental health centre for help or go to the nearest hospital emergency department. If you are having a mental health emergency, please call 9-1-1 or visit your closest emergency department.
You are not alone.
If you or your child is struggling with mental health, you are not alone. CMHO research shows 59% of parents have noted recent behavioural changes in their child ranging from outbursts or extreme irritability to drastic changes in mood, behaviour or personality and difficulty sleeping/altered sleeping patterns as well as persistent sadness and more.
Find Help
Did you know there are child and youth mental health centres across the province that provide free counselling and supports for families? No problem is too big or too small.
Child and youth mental health centres are here for you with virtual, phone and in person walk-in clinics. Sessions are available for parents/caregivers too, and you don't need a referral or OHIP card.
Through its network of child and youth mental health centres, Children's Mental Health Ontario has 4,000 child and youth mental healthcare workers across Ontario ready to help parents and their children. Depending on your needs, we can connect you to child mental health professionals that will most help you and your family, including psychiatrists, therapists, and psychologists.
If you have any questions and would like to talk to a professional, please click here to find your closest child and youth mental health centre.
Signs of Mental Health Issues in Children
Often, children will present signs of mental illness in ways that are not quite the same as adults. You may observe changes in behaviour, mood, sleep patterns, appetite and/or interactions with others that are having a negative effect on your child's day to day activities. It is important to seek help.
Is your child experiencing any of these?
Extreme outbursts or excessive mood swings
Worrying so much that they are getting stomach aches or headaches
Persistent nightmares and a lack of sleep that are affecting your child's day
Avoiding formerly enjoyable activities, including spending time with friends
Unusually quiet, sad or reserved, preoccupied
Change in appetite – eating considerably less, or more.
If you are not sure what your child is experiencing is normal or if they need help, please call a child and youth mental health centre near you.
**If this is a mental health emergency, please call 9-1-1 or visit your closest emergency department.
For addiction, mental health and problem gambling treatment services for those 18 and over.
You Don't Have to Do This Alone.
If you are a parent/caregiver worried about your child, or a young person looking for help yourself – please reach out. Our network of child and youth mental health centres have 4,000 professionals ready to help children, youth and families with free counselling and treatment. We provide care in person, on the phone and virtually. No problem is too big or small.
Find your closest child and youth mental health centre.