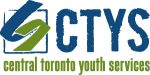 Website Central Toronto Youth Services - CTYS
Empowering Youth Changing Lives
Central Toronto Youth Services (CTYS) is an accredited Children's Mental Health Centre with a range of services and programs for youth and families across Toronto. These services are client-centered and flexible, geared for youth and families with a range of mental health needs who may have difficulty accessing traditional office-based services.
New Outlook: Community Support Program at CTYS
The Community Support Program (CSP) is one of five (5) New Outlook programs funded by the Ministry of Health. These programs provide mental health assessment, support and case management for transitional aged youth (aged 16-24) and their families, who experience difficulties mastering both the developmental and transitional tasks of adolescence and young adulthood.
Using strength-based recovery approaches to counselling and case management, members of the CSP program work with clients to improve their quality of life and instill hope. Through the exploration of their experiences of mental health, staff incorporate wellness and recovery frameworks to build relationships to empower clients to access resources and opportunities. The CSP staff also integrate interventions that are trauma-informed and evidence-based, and take into consideration ways to prioritize social justice and inclusion. This role supports clients through a blended service model with both community outreach and virtual work. A flexible work schedule is required to accommodate individual and family schedules in the evenings. For more details, see www.CTYS.org
As employers we are committed to building intervention and management teams that reflect the diversity of our clients. Priority will be given to qualified applicants who identify with and have experience supporting racialized communities specifically Black/ African/ Caribbean diasporic communities. Applicants are invited to self-identify.
Primary Responsibilities:
• Work collaboratively with youth, service providers and families/ caregivers, to develop comprehensive and effective service delivery plans for transitional aged youth (aged 16-24) utilizing a wellness and recovery framework
• Provide brief and ongoing counselling and therapeutic services informed by trauma theory and evidence informed practices
• Assist youth in identifying and acquiring skills needed to meet their goals
• Facilitate access to resources such as psychiatry, housing, substance abuse programs, crisis response services, etc. and to provide crisis response/ safety planning, as necessary
• Provide brief service and longer-term case management, as needed
• Support advocacy and resource brokerage
• As required, work with families from diverse cultures, utilizing interpreters as needed
• Provide flexible and accessible service delivery including virtual or in-person service options, and some evening work
• Participate in team, staff, and supervision meetings
• Maintain all records and reports as required by the CTYS policies and procedures
• Other duties as assigned
Qualifications:
• Bachelors in Social Work or related health care discipline and/ or combination of equivalent education and experience
• Masters level degree in a counselling related field is preferred
• Registration in a regulated health college (e.g. R.P. /R.S.W.) is preferred
• Identification with and/ or experience supporting racialized communities specifically Black/ African/ Caribbean diasporic communities is preferred
• Minimum of three (3) years experience in a mental health setting
• Knowledge of and commitment to practicing from a decolonizing, anti-racist and anti-oppressive framework
• Experience working with youth and families from diverse cultural and socio-economic backgrounds
• Demonstrated experience working from an anti-oppressive framework with youth and families from diverse ethno-cultural and socio-economic backgrounds including youth with diverse intellectual abilities and racialized communities
• Experience with and understanding of youth with serious mental health challenges that impair daily functioning
• Knowledge of appropriate therapeutic approaches and interventions
• Demonstrated skills in assessment, formulation, counselling, and case planning and coordination
• Ability to work independently and as part of a team
• Excellent verbal and written communication skills
• Familiarity with resources supportive to CTYS clients (e.g. 2SILGBTQ+ and BIPOC youth) and experience referring clients to community resources
• Comfort and proficiency in using technology to engage youth and families (e.g. phone, text, and video) and in completing clinical documentation (e.g. Microsoft Word, Adobe, and Outlook)
• Proficiency in French language is an asset
• Valid Ontario driver's license and access to a vehicle is an asset
• Proof of Full Covid-19 vaccinations (2 doses) is required
• Clear Vulnerable Sector Screening Check is required
Start Date: ASAP
Salary Range: $ 59,486.21 – $ 71,029.64 (Competitive Benefits Package)
Please submit a letter of application with resume by Friday, January 20, 2023 via email to:  Resumes@ctys.org