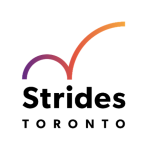 Website Strides Toronto
The Toronto East Youth Wellness Hubs is an animated space designed for youth to receive services that address the social determinants of health with a focus on mental health and addictions. Strides Toronto and its partners have committed to working collaboratively as an integrated service team, providing clinical and non-clinical services to youth.
 There are 2 positions available – 1 fulltime permanent and 1 fulltime one-year contract
Strides Toronto is a multi-service agency providing services to young people from birth to age 29 and their families in East Toronto. Formed in January 2020 through the amalgamation of Aisling Discoveries and East Metro Youth Services, Strides Toronto provides a range of community, residential and treatment services to improve the mental, social, and physical health of infants, children, youth and their families. We provide individual, group and family interventions that include mental health counselling, autism services, education, outreach and referral, early intervention, day treatment and community support.
As Lead Agency for infant, child and youth mental health in Toronto, Strides Toronto works with 25 core service providers to design and implement system-level improvements that transform access to services, experience of services and the mental health outcomes for Toronto's diverse communities.
Strides Toronto has a budget of $30 million and more than 350 employees providing services out of 19 locations across East Toronto. The organization Is accredited by the Centre for Accreditation and the predecessor organizations have a long history of providing high-quality services in East Toronto.
 Why work with us? 
-Be part of a long history of leadership and evidence informed practice in child, youth and family service.
-Join a skilled and dedicated team who are passionate about achieving our vision of an inclusive and supportive community where children, youth and their families thrive.
-Experience opportunities for growth and professional development.
-Be committed to creating a positive and rewarding work environment.
-Share an organizational culture of on-going learning and quality improvement.
-Bring high standards for performance and implementation of best practices and demonstrated through our accreditation with the Canadian Centre for Accreditation
-Expect a competitive salary and comprehensive benefits package.
-Join a diverse and inclusive work environment with staff who speak more than 23 languages.
 What will you do? 
-Provide evidence informed single session walk-in counselling at the Youth Wellness Hub to children, youth and their families;
-Complete the required assessment, formulation, and treatment planning, and treatment for youth and families who require Brief Community Counselling (6 weeks) and Community Counselling (3-6 months);
-Assess the level of risk and develop a plan accordingly using community-based interventions and medical services if necessary;
-Work collaboratively within a diverse team;
-Work well within a fast paced environment, with an ability to problem solve in the moment, pivot and respond to changing needs;
-Work in collaboration through an integrated care model with service navigators, nurse practitioner, psychiatrist and other service providers within a community hub environment, facilitating client pathways through the services;
-Facilitate ­ Dialectical Behaviour Therapy (DBT) skills groups for youth 12 weeks in length;
-Participate in clinical and non-clinical Youth Wellness Hub initiatives and actively engage with youth who are using the wellness space (engaging in activities/programs with youth in the youth space).
-Attend weekly case review meetings and case planning meetings for youth and families as required;
-Complete session notes, update records, complete treatment reports and maintain professional standards of clinical practice in accordance with Strides Toronto policies and procedures, Canadian —Center for Accreditation (CCA) standards, and relevant legislation;
-Provide clinical support to the brief services team;
-Participate in partnership organizations' committees and provide representation on behalf of Strides Toronto.
What are we looking for?
-Master's degree in Social Work, Counselling Psychology or equivalent;
-Membership in good standing in a professional regulatory college for practitioners for psychotherapy i.e.: OCSWSSW, CRPO;
-Minimum of 2 years direct service experience, preferably within children/youth in the mental health and addictions sector;
-Demonstrated experience working within an evidence informed treatment model;
-Familiarity with a range of evidence-based treatment modalities including SFBT, CBT, Narrative Therapy, Motivational Interviewing and DBT;
-Demonstrated experience working with youth from diverse backgrounds;
-Demonstrated experience working from a Anti-Oppressive, Anti-Racist framework;
-Experience and understanding concurrent disorders and harm reduction;
-Experience facilitating groups including DBT skills;
-Experienced working with individuals from age 0-29 and their caregivers;
-Knowledge and understanding of how hospital outpatient and Emergency Department services work;
-Strong competency in verbal and written communication as well as computer literacy;
-Trained in Crisis Intervention and Prevention;
-Trained in Suicide Prevention (e.g.: ASIST);
-Access to a vehicle for transportation preferred;
-Vulnerable Police check will be required prior to commencing position;
-Ability to work flexible hours (Tuesday – Saturday scheduling) and evenings and weekends;
-Preferred candidates will be bilingual in both official languages.
Additional Assets 
Fluency in another language(s).
Additional Information
This role is a part of OPSEU Local 567 bargaining unit.
Salary range $58,460 – $73,377 per annum
Location – Toronto East and/or Scarborough site
It is a requirement of employment that successful applicants be fully vaccinated against COVID 19 or have received an exemption from the organization's policy prior to the commencement of employment.
How to Apply
Please submit a cover letter and resume outlining your experience and how you meet the requirements for this position.   The application deadline is November 29, 2021. 
Strides Toronto is an equal opportunity employer.   We welcome diversity in the workplace and encourages applications from qualified candidates who reflect the diversity of the communities we serve.
In accordance with the Ontario Human Rights, Accessibility for Ontarians with Disabilities Act and Strides Toronto's own policies, requests for accommodation will be considered throughout the hiring process.
We thank all applicants however, only those selected for interviews will be contacted.