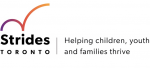 Website Strides Toronto
ABOUT US
Strides Toronto is a multi-service agency providing a wide range of exceptional programs and services that improve the mental, social and physical health of infants, children and youth from the pre-natal stage to age 29, and their families.  With a range of community, residential and treatment services our work helps to strengthen social and emotional well-being for culturally diverse clients to reach their full potential.  We provide individual, group and family interventions that include mental health counselling, autism services, education, outreach and referral, early intervention, day treatment and community support. In its Lead Agency role, Strides Toronto collaborates with 23 publicly funded infant, child and youth mental health (ICYMH) core service providers to design and implement system-level improvements that promote access, responsive service delivery and experience, and positive mental health outcomes for young people and families across Toronto's diverse communities. To learn more about who we are and what we do, visit our website at www.stridestoronto.ca
ABOUT THE ROLE
The Youth Wellness Program Animator will engage with youth accessing and experiencing barriers to care. Communicate with partners to connect youth to mental health, primary health care, education, employment and needs.
Salary:                 $46,148.30 to $53,739.03 per annum
Benefits:             Competitive Group Health Benefits, Retirement Savings Plan.
This position is represented by OPSEU local 567.
This is a full-time permanent position.
WHY JOIN OUR TEAM?
We have a collaborative and supportive Senior Management Team.
We provide a hybrid work model and competitive Group Health Benefits and Pension Plan.
We provide opportunities for growth and professional development.
We have a diverse and inclusive work environment with staff who speak multiple languages and dialects.
We are committed to providing an equitable and inclusive environment where our team members and clients can thrive.
We set high standards for performance, client outcomes, and implement best practices, which are demonstrated through our accreditation with the Canadian Centre for Accreditation.
WHAT YOU WILL DO
Provide administration support to the 'youth wellness hub' ensuring the efficient operation of services through processing referrals, coordinating clinical and non-clinical supports for clients.
Support youth that visit the youth wellness hub by creating a welcoming space and linking youth to other service providers.
Manage and track influx of intakes and provide updates and information on changes to the therapists' schedules, and outcomes of session if unable to contact client.
Booking psychiatrist and nurse practitioner appointments for clients that access the youth wellness hub.  Upload referrals and other documentation from Therapists, Doctors, Nurse Practitioners for specified clients in Treat prior to Psychiatric assessment
Support with hub outreach initiatives to local schools, hospitals, agencies etc.  Work with Toronto East partners to develop content for social media posts (program flyers, resources for youth, information about services)
Ensure Psychiatrist and Nurse Practitioners have access to relevant documents and information to proceed with appointment.
Host bi-weekly clinical and non-clinical case conferences with Care team (Psychiatrist, Nurse Practitioner, Therapists, Peer Support Workers and Settlement Workers) and partners.
Enter client demographic information and referrals into the client systems (Treat and Dacima).
Confirm psychiatry and Nurse Practitioner appointment status (attended, no show, rescheduled etc.) in treat.
Animate the space by supporting the development and implementation of hub initiatives.
Other duties as assigned.
"MUST HAVES"
The following education, professional memberships and knowledge are a requirement for this role:
Post-Secondary Education in a related field.
1 year experience working in a hospital or community based setting.
1 year experience in an administrative support role.
Ability to navigating the organization and interacting with staff at all levels.
Knowledge of the mission, mandate, objectives, strategic priorities, policies, guidelines, standards and organization of Strides and the various department.
Working knowledge of community resources available for youth and their families.
Working knowledge of systems and potential barriers clients may encounter.
THE 'NICE TO HAVES'
While not required, preference will be given to candidates with the following:
Familiarity with client records software is an asset.
Experience developing and facilitating programs would be an asset.
Experience de-escalating crisis situations would be an asset.
Knowledge of the community served by the organization.
Functional computer and client information system knowledge.
Knowledge of the cultural diversity of communities served by the agency.
Fluency in another language(s), including sign language.
BEFORE STARTING WITH US
As our work puts us in direct contact with young people and vulnerable persons in our community, with health and safety as a priority, the successful candidate must complete or obtain the following before commencement of their employment:
Full vaccination against COVID-19 or have received an exemption from the organization's policy.
A Vulnerable Sector police check.
HOW TO APPLY
Please submit a cover letter and resume outlining your demonstrated education, certification (if applicable), working and related volunteer experience and how you meet specific requirements for this position, and any additional considerations you deem appropriate. The application deadline is March 17, 2023.
Strides Toronto is an equal opportunity employer. We benefit from diversity of lived experiences in the workplace and encourage applications from qualified candidates who reflect the diversity of the communities we serve.  Strides Toronto is a participant in the Government of Canada's 50-30 Challenge, a program which challenges organizations to improve access for women and/or non-binary people and other equity-deserving groups, including those identifying as: racialized, Black, and/or people of colour, people with disabilities (including invisible and episodic disabilities), 2SLGBTQ+ and/or gender and sexually diverse individuals, and Aboriginal and/or Indigenous Peoples to  increase the representation and inclusion of diverse groups within their workplace.
In accordance with the Ontario Human Rights, Accessibility for Ontarians with Disabilities Act and Strides Toronto's own policies, requests for accommodation will be considered throughout the hiring process.
We thank all applicants however, only those selected for interviews will be contacted.