For National Indigenous History Month, Children's Mental Health Ontario (CMHO) would like to acknowledge and celebrate the many Indigenous mental health service providers across Ontario who are doing incredible work in their communities to support Indigenous children and families. We would also like to acknowledge the child and youth mental health service agencies who have taken seriously the responsibility of providing services to Indigenous peoples in their communities. And who have forged meaningful partnerships with Indigenous service providers and communities to ensure mental health service provision that defers to cultural and traditional expertise to drive positive mental health outcomes.
CMHO recognizes the strength of Indigenous communities in addressing the mental health needs of their populations in ways that are appropriate and responsive to Indigenous cultures and traditional teachings. We recognize that there is significant and urgently needed action on dismantling colonial legacies and anti-Indigenous racism which persist to this day across health and social service sectors including child welfare, youth justice, and mental health and addictions.
As we acknowledge and celebrate Indigenous History Month, we recognize that significant issues persist and that, as a provincial voice for Ontario's children, youth and families, we have a responsibility to use our privilege in ways which elevate the strength, wisdom, and expertise of Indigenous leaders. We are committed to supporting Indigenous-led action and sharing our organisational plans and progress on this front.
National Indigenous History Month
This month is National Indigenous History Month to honour the history, heritage, and diversity of Indigenous peoples in Canada. It's an opportunity for all of us to learn about and appreciate the history, cultures, contributions, and strength of First Nations, Inuit and Métis people. It's also about learning of the ways in which we can recognize legacies of colonialism and anti-Indigenous racism and interrupt them within our own personal and professionals spheres of influence.
Read on for more information and updates showcasing the various efforts and celebrations from within our community.
New Program Supporting Indigenous Child and Youth Mental Health
A new pilot program in Toronto aims to help Indigenous children and families who may be struggling with mental health brought on by the pandemic. The program described by Dr. Jeffrey Schiffer, Executive Director of Native Child and Family Services of Toronto as "a trauma-informed land-based response to COVID,"  allows families who have been self-isolating to meet with Native Child and Family Services of Toronto staff in local parks. Activities will include Indigenous storytelling, singing Indigenous songs, arts and crafts, and other activities for children to support mental health in ways that are especially meaningful to them.
Celebrating Culture
We know that many communities missed celebrating National Indigenous Peoples Day on June 21 the way that they may have in previous years because of the pandemic – by gathering in person. However, many virtual celebrations have been taking place.
Watch Dave Alex Robertson read his children's book When We Were Alone:
When We Were Alone  – an important book for children to learn about residential schools in a gentle way.
This was shared on Twitter through our partner CHEO.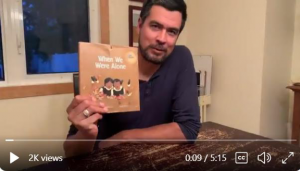 Here's another example from our member agency Native Child & Family Services of Toronto. They did a Facebook live video with the Métis Fiddlers Quartet.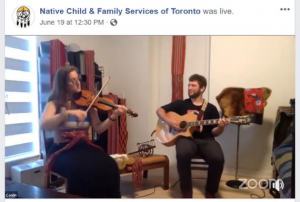 Sharing Culture
Our partners at Southwest Ontario Aboriginal Health Access Centre recently shared these recipes and story about the significance of strawberries, which have a strong connection to creation and babies of the Haudenosaunee People.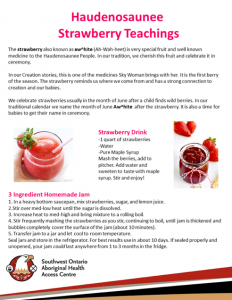 Want more?
Find books, activities, events, and educational resources for children and youth
Carizon, in Kitchener, has a blog explaining National Indigenous Peoples day with links to educational resources.
Find activities, games and stories for youth and educators about Indigenous peoples' culture, history and languages on the Government of Canada website.
Check out #IndigenousReads with book titles for children and youth through the Government of Canada.
The inaugural NATOA #Indigenous Youth Virtual Summit is happening October 6 – 8, 2020. During the 3 days, youth will develop tools needed to overcome barriers that Indigenous youth and gender diverse people may face and have confidence in themselves. For more information: http://GoToRegister.ca/NATOA