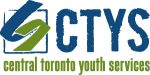 Website Central Toronto Youth Services - CTYS
Empowering Youth Changing Lives
Full Time – 35 hours a week; Temporary Assignment Position (ends March 2026)
Central Toronto Youth Services (CTYS) is an accredited, innovative Children's Mental Health Centre providing a range of mental health services for youth and their families.  We are currently recruiting for a Program Coordinator for our Pride & Prejudice Program.  This is an exciting opportunity to support 2SILGBTQ+ youth and their families in the Program.
Pride & Prejudice Program at CTYS
The Pride & Prejudice Program, supports youth aged 13-24 exploring sexual and gender identity, coming out, interpersonal conflicts, experiences of trauma and mental health challenges. Psychotherapeutic interventions include individual, group and family modalities. Services are provided virtually and in person.  For more details, see www.CTYS.org
As employers we are committed to building intervention and management teams that reflect the diversity of our clients. Priority will be given to qualified applicants who identify with and have experience supporting
2SILGBTQ+ and Black/ African/ Caribbean diasporic communities.
Primary Responsibilities: 
To provide therapeutic services, informed by trauma, attachment, family systems theories and affirmative gender and sexuality counselling approaches
To provide individual, group and family evidence informed clinical interventions
To provide brief therapy services as well as longer term interventions
To work collaboratively with youth, parents, school personnel and other service providers, by developing individualized and effective service delivery plans using a strengths based and youth and family engagement perspective
Providing flexible services that ensure accessibility for youth and families including after school appointments plus two evenings a week
Case management support for transitions to community services
To participate on internal CTYS or external 2SILGBTQ+ committees
Qualifications:
A graduate degree in Social Work or related helping profession and/ or equivalent experience
Must have membership in the appropriate professional regulatory body (RSW, RP)
Membership in and identification with the 2SILGBTQ+ communities (priority given to membership in the transgender, non-binary and BIPOC communities)
Comprehensive knowledge of the issues, needs and Toronto resources for 2SILGBTQ+  youth
Expertise in working with transgender, non-binary and gender questioning youth
Knowledge of and commitment to practice from a decolonizing, anti-racist and  anti -oppression framework
Knowledge of and commitment to an evidence informed practice
Experience supporting family members of transgender and non-binary youth, individually and in group
Minimum two (2) years' experience working in Children's Mental Health
Experience working with youth with serious mental health challenges
Experience in providing trauma informed and family systems interventions
Experience in providing crisis support/ safety planning
Strong communication and computer technology skills
Strong interpersonal skills and ability to build rapport with youth and their families
Must be available to work two evenings per week
Fluency in French and/ or another language is an asset
COVID vaccinations required
Start Date:  ASAP
Salary Range: $ 59,486.21 – $ 71,029.64
Competitive Benefits Package
Generous Paid Time Off Entitlements (including Vacation, Personal Leave, Professional Development)
Excellent Extended Health and Dental Benefits Plan
Participation in Defined Pension Plan (DPP)
Employer Paid Contributions to Group Retirement Savings Plan (GRSP)
Please submit a letter of application with resume by Monday, March 20, 2023:
Email:  Resumes@ctys.org
Central Toronto Youth Services
65 Wellesley Street East, 3rd Floor
Toronto, ON  M4Y 1G7
We thank all applicants; however, only candidates selected for an interview will be contacted. CTYS welcomes and encourages applications from people with disabilities.  Accommodations are available on request for candidates taking part in all aspects of the selection and hiring process.  As employers we are committed to building organizations that reflect the diversity of our clients and the communities we serve.  We encourage people of colour, queer people, trans people, people with disabilities and people with lived experience of mental health challenges to apply.