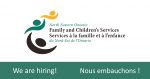 Website North Eastern Ontario Family and Children's Services North Eastern Ontario Family and Children's Services
North Eastern Ontario Family and Children's Services
CLINICIAN – NON-REGISTERED
Full-time Position in New Liskeard
As a member of the Counselling and Therapy Services team, the Clinician – Non-Registered provides single sessions, counselling, support and clinical assessments to address identified behavioural, social and emotional needs of children, adolescents (up to eighteen (18) years of age) and their family support systems. The Clinician – Non-Registered works in collaboration with other professionals and collateral community services in order to appropriately and proactively attends to the identified needs of the child or adolescent.
JOB REQUIREMENTS (QUALIFICATIONS AND SKILLS):
• At minimum, must have a B.A. in Psychology (3 years).
• Clinical skills in the area of children's mental health.
• Ability to work effectively and collaboratively with other professionals
• Excellent communication, interpersonal and organizational skills
• Bilingualism is required
• Must have a valid driver's licence and use of own vehicle
• Must provide government-issued evidence of receipt of 2nd Health Canada approved COVID vaccination dose at least fourteen (14) days prior to your start date, or evidence that you qualify for a human rights exemption
The job description for this position is available upon request.
Please submit your resume by: December 9, 2022
Quote Competition # 22-43
Send Resume and Cover Letter via email to: humanresources@neofacs.org
For more employment opportunities please visit our website at www.neofacs.org
North Eastern Ontario Family and Children's Services only accepts resumes that are received by the email address above. We thank everyone for their interest in North Eastern Ontario Family and Children's Services; however, only those selected for an interview will be contacted.
NEOFACS is committed to an inclusive, barrier-free selection process. If contacted regarding this competition, please advise the interview coordinator of accommodation measures you may require during our selection process. Information received relating to accommodation needs of applicants will be addressed confidentially.
Working together for the well-being and safety of children, youth and families.
***
CLINICIEN OU CLINICIENNE – NON-INSCRIT OU NON-INSCRITE
Poste à temps plein à New Liskeard
À titre de membre de l'équipe de services de conseil et de thérapie, la clinicienne ou le clinicien (non inscrite ou non inscrit) donne des séances individuelles, du counseling, un appui et des évaluations cliniques pour régler les besoins comportementaux, sociaux et affectifs cernés chez les enfants, les jeunes (jusqu'à dix-huit [18] ans) et les réseaux de soutien de leur famille. La clinicienne ou le clinicien (non inscrite ou non inscrit) travaille en collaboration avec d'autres professionnels et les services communautaires connexes afin de répondre de manière appropriée et proactive aux besoins identifiés de l'enfant ou du jeune.
EXIGENCES DE L'EMPLOI (QUALITÉS ET COMPÉTENCES REQUISES):
• Au minimum, doit être titulaire d'un B.A. en psychologie (3 ans).
• Des compétences cliniques dans le domaine des services de santé mentale aux enfants.
• La capacité de travailler avec efficacité et en collaboration avec d'autres professionnelles et professionnels.
• D'excellentes aptitudes à communiquer, un excellent entregent et un excellent sens de l'organisation.
• Le bilinguisme est requis.
• Un permis de conduire valide et l'utilisation de son propre véhicule.
• Doit fournir une preuve émise par le gouvernement de la réception de la 2e dose du vaccin contre la COVID-19 approuvé par Santé Canada au moins quatorze (14) jours avant la date d'entrée en fonction, ou une preuve que vous êtes admissible à une exemption des droits de la personne.
La description de ce poste est disponible sur demande.
Veuillez présenter votre curriculum vitae d'ici: le 9 décembre 2022
en indiquant le no de concours 22-43
Faites parvenir vos C.V. et lettre de présentation par courriel à l'adresse :
humanresources@neofacs.org
Pour consulter d'autres possibilités d'emploi, veuillez visiter notre site Web à l'adresse www.neofacs.org
Les Services à la famille et à l'enfance du Nord-Est de l'Ontario acceptent seulement les curriculum vitae qui sont reçus à l'adresse de courriel ci-dessus. Nous vous remercions de votre intérêt pour les Services à la famille et à l'enfance du Nord-Est de l'Ontario; toutefois, nous communiquerons seulement avec les personnes sélectionnées aux fins d'entrevue.
Les SFENEO se sont engagés à suivre un processus de sélection inclusif et sans obstacle. Si nous communiquons avec vous concernant le présent concours, veuillez aviser la coordonnatrice ou le coordonnateur de l'entrevue des mesures d'adaptation dont vous pourriez avoir besoin pendant notre processus de sélection. Les renseignements recueillis relativement aux besoins d'adaptation des candidates ou des candidats seront traités de façon confidentielle.
Travailler ensemble pour le bien-être et la sécurité des enfants, des adolescents et des familles.