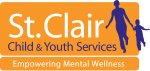 Website St. Clair Child & Youth Services
Lead Agency for Children's Mental Health in Sarnia-Lambton
Full Time (35 hours/week)
Social Worker or Psychotherapist
Qualifications:
•A current member in good standing with the Ontario College of Social Workers & Social Service Workers (OCSWSSW) and/or the College of Registered Psychotherapists of Ontario (CRPO).
•Master's degree in Social Work, Psychology, Counselling, Mental Health or other related health field.
Experience:
•Minimum of 1 years of experience working as a Psychotherapist / MSW / Therapist.
Skills:
1. Excellent written and oral communication skills with clients, parents, and professional staff as evidenced by:
i. concisely written clinical reports
ii. detailed treatment programs, and
iii. effective verbal presentations to the relevant community, peer group and service consumers.
2. The ability to provide therapeutic interventions with individuals, groups, and family systems.
3. Knowledge of a wide range of therapeutic treatment options as well as the skill and ability to provide such treatment to people of all ages with mental health issues.
4. Competency in gathering information from diverse sources and making useful application to intervention efforts.
5. Ongoing commitment to professional growth and development.
6. Contributes to the culture, professionalism, and identity of the agency in a positive manner.
7. The ability to be responsive to identified needs, gaps in service and add innovative thinking to the delivery of children and youth mental health services.
8. Working knowledge of the different referral agencies/services available within the SCCYS catchment area.
9. Adherence to a professional code of ethics.
10. Working knowledge of the legislation governing the practice of mental health treatment.
LOCATION: 129 Kendall Street, Point Edward, ON, N7V 4G6
SALARY: $60,351.20 – $71,653.40 per annum
Applicants are asked to apply to Human Resources via email wrayall@stclairchild.ca by 5pm on the posting end date.
St. Clair Child & Youth Services welcomes applications from racialized groups, First Nation Inuit or Métis persons, persons with disabilities, persons of any sexual orientation, and persons of any gender identity or gender expression.
Accommodations are available for applicants with disabilities throughout the recruitment process in accordance with the Ontario Human Rights Code.