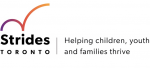 Website Strides Toronto
ABOUT US
Strides Toronto is a multi-service agency providing a wide range of exceptional programs and services that improve the mental, social and physical health of infants, children and youth from the pre-natal stage to age 29, and their families. With a range of community, residential and treatment services, we build strength and resilience through equitable, accessible, client-driven services, system leadership and advocacy. We provide individual, group and family interventions that include mental health counselling, autism services, education, outreach and referral, early intervention, day treatment and community support. In its Lead Agency role, Strides Toronto collaborates with 23 publicly funded infant, child and youth mental health (ICYMH) core service providers to design and implement system-level improvements that promote access, responsive service delivery and experience, and positive mental health outcomes for young people and families across Toronto's diverse communities. To learn more about who we are and what we do, we invite you to visit our website at www.stridestoronto.ca
ABOUT THE ROLE
The Manager, One Stop Talk – Provincial Virtual Walk-In is a permanent full-time position that provides leadership and oversight for on-boarding, operations, system support and capacity building functions for the Provincial Virtual Walk-In program offered across the province of Ontario. The OST/ PM operations manager will provide day-to-day leadership, and direct supervision to the program staff (service navigators). The manager is responsible for the program's profile, relationships and reputation across participating organizations.
Salary range: $76,340.00 to $88,899.00 per annum 
Benefits:            Competitive Group Health Benefits, Defined Contribution Pension plan.
                               This is a full-time permanent role.
WHY JOIN OUR TEAM?
We provide a hybrid work model and competitive Group Health Benefits and Pension Plan.
We provide opportunities for growth and professional development.
We are committed to providing an equitable and inclusive environment where our diverse team members and clients can thrive.
We have a collaborative and supportive Senior Management Team.
We set high standards for performance, client outcomes, and implement best practices, which are demonstrated through our accreditation with the Canadian Centre for Accreditation.
WHAT YOU WILL DO
Manage the day-to-day operations of the Provincial Virtual Walk-In Program.
Monitor the OST/PM site regularly to ensure that staff at participating sites are performing clinical duties as per the program procedures and policies, as well as the province's laws and regulations.
Ensure high quality mental health services and processes are delivered to meet the needs of infants, children, youth, and their families.
Support decision-making by staff at participating sites and employees who are addressing challenging service situations, including assessing for and safety planning for high-risk situations where needed.
Monitor and report on key performance indicators of department and staff activity (e.g., activity (e.g., call volumes, referral ratio, client visit times, direct time for referrals etc.).
Develop and maintain relationships with leadership from other partner agencies and stakeholders across the province to support and foster a positive working & collaborative relationship.
Develop and manage external partnerships with other sectors to support them in accessing services on behalf of their clients.
Be the host site representative and support to provincial program councils.
Contribute as part of the management team to organizational development and planning, and to the activities and priorities of the Lead Agency Team.
THE "MUST HAVES"
The following education, professional memberships and knowledge are a requirement for this role:
University degree in Human Services or related field.
Minimum 3 years program management knowledge and experience and 3 years of direct service experience, preferably within children's mental health and transitional aged youth.
Superior strategic thinking and analytical skills and judgment.
Strong understanding of program data and database management processes and practices.
Highly developed communication and presentation skills, both written and verbal.
Very strong interpersonal skills, adept at relationship building, influence, and persuasion, and demonstrated political acumen.
Excellent capacity to work with multi-stakeholder groups from the corporate, public or not for profit sectors, as well as internal constituents across multiple business functions.
Demonstrated experience leading and motivating staff, volunteers and partners.
Private space within a home office environment that includes appropriate safeguards in order to provide a confidential service.
THE 'NICE TO HAVES'
While not required, preference will be given to candidates with the following:
Results orientation, ability to work to multiple and competing deadlines.
Trained in an evidence model of therapy, Crisis Intervention and Prevention.
SST training or experience or combination of both.
Awareness of the role of diversity, equity, and inclusion in the workplace and within the community being served by the position.
An understanding of Anti-Black Racism, anti-oppressive/ anti-racism perspective in the context of the social determinants of health when working with clients and their families.
Ability to recognize and identify situations where incidents of and imbalance of power and privilege may occur and can result in possible negative impacts for the client.
Effective team building in the context of a culturally diverse working environment.
Comfort working with electronic client information systems and appropriate quality control mechanisms.
BEFORE STARTING WITH US
As our work puts us in direct contact with young people and vulnerable persons in our community, with health and safety as a priority, the successful candidate must complete or obtain a Vulnerable Sector Police Check before commencement of their employment.
HOW TO APPLY
Please submit a cover letter and resume outlining your demonstrated education, certification (if applicable), working and related volunteer experience and how you meet specific requirements for this position, and any additional considerations you deem appropriate. The application deadline is September 12, 2023.
Strides Toronto is an equal opportunity employer. We benefit from diversity of lived experiences in the workplace and encourage applications from qualified candidates who reflect the diversity of the communities we serve.  Strides Toronto is a participant in the Government of Canada's 50-30 Challenge, a program which challenges organizations to improve access for women and/or non-binary people and other equity-deserving groups, including those identifying as: racialized, Black, and/or people of colour, people with disabilities (including invisible and episodic disabilities), 2SLGBTQ+ and/or gender and sexually diverse individuals, and Aboriginal and/or Indigenous Peoples to  increase the representation and inclusion of diverse groups within their workplace.
In accordance with the Ontario Human Rights Code, Accessibility for Ontarians with Disabilities Act and Strides Toronto's own policies, requests for accommodation will be considered throughout the hiring process.
We thank all applicants however, only those selected for interviews will be contacted.