Full Time
Part Time
Temporary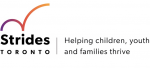 Website Strides Toronto
The position is responsible for providing a broad range of therapeutic and resource co-ordination services to children up to the age of 12 and their families in the Scarborough and East York area, in the context of flexible service delivery to reduce barriers to service and accommodate client need. The Child and Family Therapist provides family and individual assessments and counseling as well as group services to support children presenting with mental health concerns and their families in reaching their identified treatment goals.
 This is a permanent/contract full-time/part-time role. 
Strides Toronto is a multi-service agency providing services to young people from birth to age 29 and their families in East Toronto. Formed in January 2020 through the amalgamation of Aisling Discoveries and East Metro Youth Services, Strides Toronto provides a range of community, residential and treatment services to improve the mental, social, and physical health of infants, children, youth and their families. We provide individual, group and family interventions that include mental health counselling, autism services, education, outreach and referral, early intervention, day treatment and community support.
As Lead Agency for infant, child and youth mental health in Toronto, Strides Toronto works with 25 core service providers to design and implement system-level improvements that transform access to services, experience of services and the mental health outcomes for Toronto's diverse communities.
Strides Toronto has a budget of $30 million and more than 350 employees providing services out of 19 locations across East Toronto. The organization Is accredited by the Centre for Accreditation and the predecessor organizations have a long history of providing high-quality services in East Toronto.
Why work with us? 
– Be part of a long history of leadership and evidence informed practice in child, youth and family service.
– Join a skilled and dedicated team who are passionate about achieving our vision of an inclusive and supportive community where children, youth and their families thrive.
– Experience opportunities for growth and professional development.
– Be committed to creating a positive and rewarding work environment.
– Share an organizational culture of on-going learning and quality improvement.
– Bring high standards for performance and implementation of best practices and demonstrated through our accreditation with the Canadian Centre for Accreditation
– Expect a competitive salary and comprehensive benefits package.
– Join a diverse and inclusive work environment with staff who speak more than 23 languages.
What will you do? 
– Provide supportive counselling and treatment utilizing client-centered, trauma informed, evidence-based interventions to children presenting with mental health concerns and their families.
– Provide a broad range of therapeutic and resource co-ordination services to children up to the age of 12 and their families
– Engage families in assessing child and family needs and strengths, identify treatment options and desired outcomes in order to co-develop a service plan.
– Provide trauma assessment and trauma treatment services
– Deliver single session/walk-in services.
– Provide evidence-based group services.
– Consult and collaborate with community partners, agencies and individuals to develop and implement treatment plans
– Provide advice and guidance regarding clinical matters to staff of other disciplines and/or colleagues.
– Maintain up-to-date and accurate record of client contact and clinical service in the agency's client information system.
– Incorporate and integrate ongoing learning, and evidence-based/informed practices to enhance quality clinical work.
What are we looking for?
– Master's level education (Master of Social Work/Psychology or equivalent).
– Registered member with professional college (Ontario College of Social Workers and Social  Service Workers, College of Registered Psychotherapists of Ontario).
– One year of related experience post Masters completion.
– Strong background in Child and Youth Mental Health with knowledge of relevant evidence- based/informed practices.
– Work experience with strong background in Child and Youth Mental Health with knowledge of relevant evidence-based/informed practices.
– Robust knowledge of assessment, treatment modalities (i.e. family therapy, brief therapy, solution-focused therapy, cognitive behavioural therapy, narrative therapy, attachment-based interventions, trauma informed practise) including understanding of family dynamics, child development, attachment & trauma.
– Functional computer and client information system knowledge.
– Knowledge of the community served by the agency.
– Knowledge of agency policies and procedures.
– Knowledge of mental health departmental processes.
– Applied Suicide Intervention Skills Training (was provided on the job)
– Awareness of diversity, equity, and inclusion in the workplace and within the community.
– An understanding of Anti-Black Racism, anti-oppressive/anti-racism perspective in the context of mental health when working with clients and their families, with the ability to   recognize and identify situations where incidents of power and privilege may occur and can   result in possible impact.
Additional Assets 
– Knowledge of a second language
Additional Information
This role is a part of OPSEU Local 567 bargaining unit.
Salary range from $59,190 to $68,184
It is a requirement of employment that successful applicants be fully vaccinated against COVID 19 or have received an exemption from the organization's policy prior to the commencement of employment.
Vulnerable Sector police check is also required upon hire.
How to Apply
Please submit a cover letter and resume outlining your experience and how you meet the requirements for this position.
Strides Toronto is an equal opportunity employer.   We welcome diversity in the workplace and encourages applications from qualified candidates who reflect the diversity of the communities we serve.
In accordance with the Ontario Human Rights, Accessibility for Ontarians with Disabilities Act and Strides Toronto's own policies, requests for accommodation will be considered throughout the hiring process.
We thank all applicants however, only those selected for interviews will be contacted.