Kids Can't Wait
Take the Pledge to XXX
Right now, in Ontario, if your child needs mental health supports, that help may not be available when and where it is needed. That's not right.
If your child had a broken bone or cancer diagnosis, they wouldn't wait for care. Neither should children with mental illness. When these kids fail to get the mental health care help they need, the results can be devastating – and even be fatal.
Take Action
6 things you can do now
Raise your voice for kids' mental health. Tell your provincial leaders that kids can't wait for mental health care.
Here are 6 things you can do to help
Write your MPP a letter
Send a letter and let your MPP know that kids can't wait.
Connect with your MPP
Tips to support a successful meeting with your MPP.

Take the pledge
XXXXXXXXXxxxxxxxxxxxxxxxxxxxxxxxxxx
Get loud in social media
Our political leaders are listening – let's get loud in social.
Speak out
We want to hear from you. Share your experiences publicly.
Sign up
Sign up for our newsletter for important updates.
Kids' mental health is in a
state of emergency in Ontario
 Even before the pandemic, there were already more than 130,000 kids receiving mental health services in Ontario. In 2020, there were 28,000 kids on waitlists. Some were waiting up to 2.5 years for treatment.
The pandemic has made it worse.
We are seeing startling increases in severe mental health issues.
Our mental health centres are reporting dramatic and unsustainable increases in demands for services.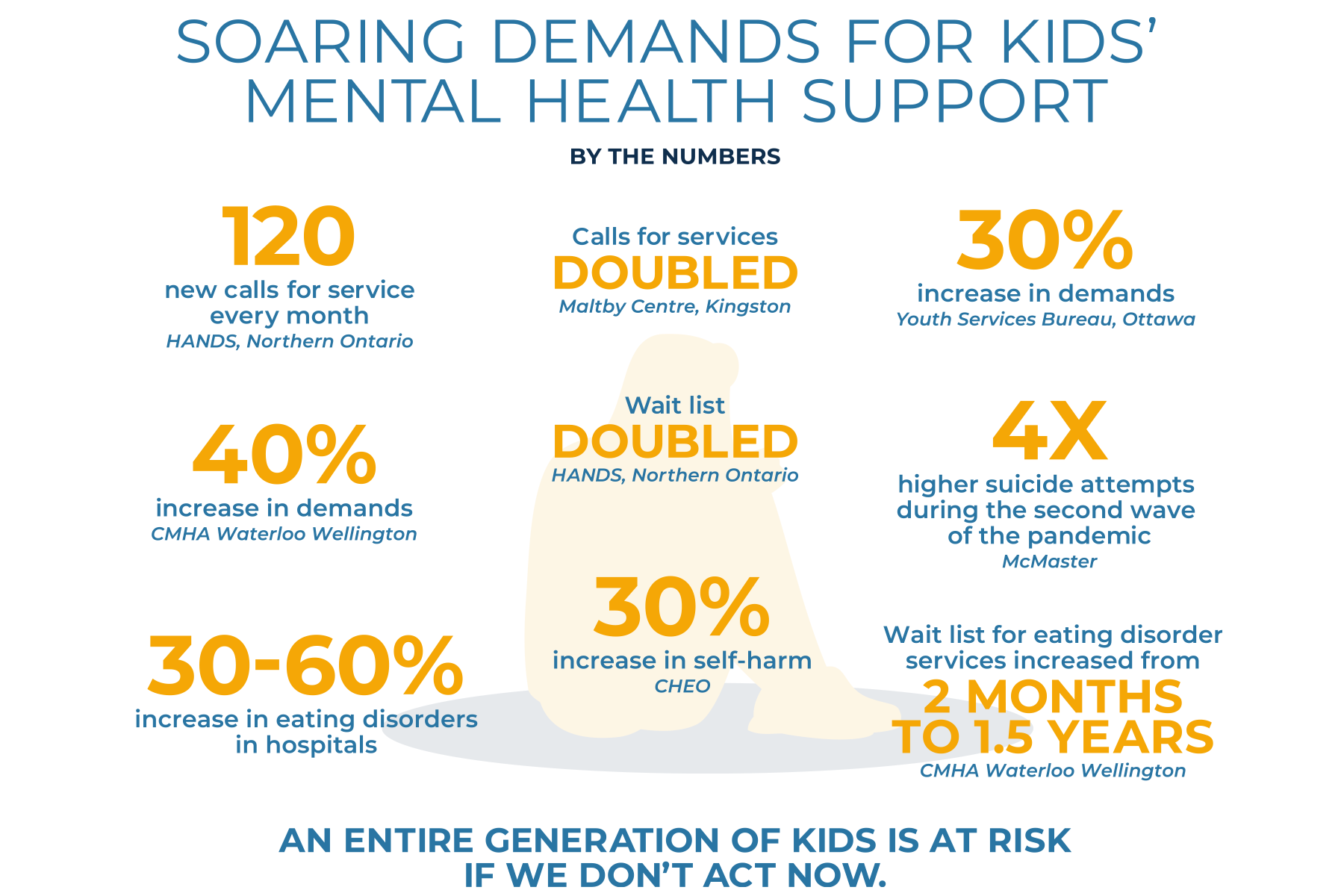 We're calling on Provincial Leaders
to act now
 <<INSERT OUR ASK>>
Every child in Ontario must be able to access mental health care, where and when they need it.
 Children's Mental Health Ontario knows what to do.
 We know that more front-line mental health workers are urgently needed. We need to make it easier for kids and families to find the help they need, at the right time and place – wherever they are in Ontario. We have solutions and our child and youth mental health centres have the expertise, but investments are critical if we are to meet the needs. 
IPSOS
REPORT ON 2020 WAIT TIMES
2019 ANNUAL REPORT CARD:
THE BURDEN OF KIDS MENTAL ILLNESS ON FAMILIES & THE ECONOMY
Policy Makers
Children's Mental Health Ontario works to identify and develop solutions to important policy issues affecting our members—community-based child and youth mental health agencies, and their clients—children, youth, and families across Ontario.  This section of reports and government submissions has been curated specifically for policy makers.