Identify Challenges, Brainstorm Solutions
Identify Challenges, Brainstorm Solutions
Identify Challenges, Brainstorm Solutions 
Now that you've gained an appreciation for the biggest challenges your child is likely to face as they prepare to return to school, the two of you can switch into problem-solving mode and look for ways of addressing those challenges as a family and/or with support from your child's teacher or the school.
You'll probably find yourself working through a couple of different categories of challenges. 
Long-standing challenges that existed prior to the pandemic and that will require managing this year as well. Those challenges didn't magically disappear in recent months. In fact, some of them (like anxiety) might even have intensified over the course of the pandemic. It's important to acknowledge that some of the coping strategies that your child relied on in pre-pandemic times (for example: leaving the classroom if they feel like they are about to have an angry outburst) might not necessarily be available to them in the same way right now. You may need to help your child to come up with other strategies for addressing these ongoing challenges while still complying with pandemic protocols.
Pandemic-related challenges related to changes at school. Some children will find it challenging to wear masks, or to communicate with others while everyone is wearing masks, or to be confined to their desks or classrooms for long periods of the school day. Opportunities for movement are an important piece of the self-regulation puzzle for many children (particularly those who are subject to outbursts), so some kids are going to find this especially difficult. It will be important to come up with some backup strategies and workarounds, both as a family and in conjunction with the school. If you are in virtual school, check our tip sheet on Your Child's Mental Wellness and Remote Learning.
Pandemic-related challenges that go beyond school. It's important to acknowledge the mental health impact of living through a global pandemic. Depending on what your child, family, and community have experienced, the anxiety and trauma may be far-reaching and intense. In this case, your child might benefit from tapping into some extra support at school and/or through a child and youth mental health centre.
Challenges associated with the transition back to school. Your child might also find it challenging to transition back to school school-year routines after many months of pandemic living, which may have meant erratic sleep patterns, increased screen time, and decreased physical activity for many students. The transition back to school may prove to be a bit more challenging this year.

TIP:
If your child is feeling anxious about the fact that pandemic-related plans and protocols are likely to continue to change, help them to understand that this is actually a good thing—evidence that we're figuring out new ways of keeping ourselves and one another safe as we learn more about COVID-19.
Read more about Navigating School to Support Your Child With Mental Health Challenges.
Supporting Younger Children
Looking for strategies for helping younger children to feel more comfortable about wearing masks and/or making sense of hygiene and physical distancing rules? Here are a few ideas.
Look for social stories that show what school will look like this year (for example, people wearing masks and face shields) and practice the new routines that will be in place at school (for example, putting a mask on and taking it off; washing your hands a couple of times a day—and in a way that will actually get rid of the germs).
Use dominos to explain the concept of physical distancing as a strategy for preventing viral spread. "If the dominos are too close together and one of the dominos gets knocked over, all the dominos will fall over. But if the dominos are a little further apart, the other dominos will be okay when that first domino falls down."
Help your child to understand that while it may be a little more challenging to try to read a person's emotions or communicate your own feeling when everyone is wearing a mask, but it can be done. Help your child to figure out how they could use exaggerated facial expressions or gestures if they feel like the message they're trying to send isn't getting through; and how they might share these strategies with other people, including classmates and staff.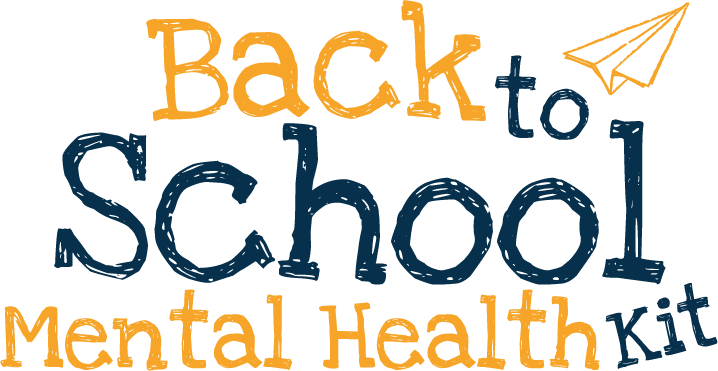 Back To School Mental Health Kit
While back-to-school is hard for most children and youth in a normal year, this year our kids and their families are facing extraordinary circumstances relating to the pandemic and infection control measures. To help, Children's Mental Health Ontario has prepared a Back-to-School Tool Mental Health Kit with resources and tips. 
Look for tips, resources and information to help parents and caregivers.
Survival Guide
Practical tips and information to prioritize your own wellness and start making things better for you and your family.
Back-to-School Tips for Parents 
Strategies for making a strange and uncertain situation feel a little less overwhelming for you and your kids.
Parenting in a Pandemic
Parenting in the midst of a pandemic is challenging, especially for parents of kids struggling with mental illness.
You Don't Have to Do This Alone.
If you are a parent/caregiver worried about your child, or a young person looking for help yourself – please reach out. Our network of child and youth mental health centres has 4,000 professionals ready to help children, youth and families with free counselling and treatment. We provide care in person, on the phone and virtually. No problem is too big or small.
Find your closest child and youth mental health centre.