The Pandemic and Child and Youth Mental Health
As the pandemic continues to move through different phases, it's a good time to check-in with yourself and your family. For many of us, this past year has been difficult. Many young people and their parents, as well as child and youth mental health experts, are concerned over the effects of the pandemic on the mental health of kids.
Children's Mental Health Ontario has been tracking the emerging research and data pertaining to the impacts of the COVID-19 pandemic with a focus on the mental health of children, youth and their families. Our full evidence brief can be found here:
We have seen the impact on kids and youth through parents concerned about changes in their child's behaviours, to the sharp increases for services that our child and youth mental health centres are seeing. As the need for services increases, so has the severity of the mental illnesses young people are experiencing.
We know this has been a stressful time for many families, but for some children and youth, the stress and anxiety has progressed into more serious mental health challenges. With little structure, school closures, virtual school challenges, and isolation from their peers, we are increasingly seeing early signs of mental health and addiction in youth.
If you are concerned about your child's mental health, please reach out for help.
Statistics on Youth Mental Health
A look at recent stats on child and youth mental health and the pandemic shows that everything is not ok.
A recent SickKids survey found that approximately 70 per cent of children and youth reported a worsening of their mental health since the start of the pandemic.
Children with no previous diagnoses are now experiencing higher rates of depression, anxiety, irritability, and inattention.
Kids Help Phone reported receiving more than 4 million calls, texts and clicks in 2020 from young people looking for support – double what they received the previous year.
CHEO is experiencing a 50 per cent increase in youth coming to the hospital with eating disorders. A recent CMHA report showed that the age group experiencing the strongest worsening of mental health is individuals aged 15-24.
We have heard about youth who have died by suicide – with parents citing the pressures of the pandemic as the driving factor.
Youth who have missed out on major milestone celebrations, like graduation ceremonies, are feeling the effects of the prolonged pandemic.
School Pressures
The school year has been challenging and unstable on children across the province, but we know that youth are experiencing unique issues in 'hybrid' remote learning/ in-class classes. These students have lost out on extracurricular activities and are spending much time sitting in class or in front of the computer. A second lockdown earlier this year further isolated them from their peers.
We are hearing from many parents that students are feeling burnt out. Throughout this extraordinary year, many of our child and youth mental health counsellors have encouraged parents and kids to prioritize mental health, rather than academics because it would be easier to make up a math class, rather than let a mental health issue worsen.
We know that this hasn't been the experience of all young people. For some, the virtual classroom better suits their learning style, and it has been a reprieve from bullying that some kids face in school. For others, it has been an opportunity to reconnect with family. However, it's those among us who are most vulnerable, including families whose children were already facing mental illness before the pandemic, who are most likely to be struggling.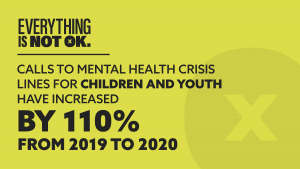 CMHO Sounding the Alarm: Everything is Not OK
CMHO is sounding the alarm that everything is not ok when it comes to our kid's mental health.  We continue to call on the Ontario government to prioritize child and youth mental health in the pandemic recovery. Even before the pandemic, there were 28,000 families waiting for child and youth mental health care – some waiting 2.5 years for services. That is no place a family wants to be in, knowing your child is sick and you are waiting for help. We want to see faster services so that children and youth can get the care they need when they need it.
Support for Parents and Caregivers
If you're a parent or caregiver noticing concerning changes in your child's behaviour, please know that you are not alone and we are here to help.
Our Family Care Centre is a helpful resource for parents and caregivers supporting themselves and their families through these turbulent times. Resources to help with remote learning, supporting an anxious child through COVID and general wellness tips can all be found on our Family Care Centre.
Evidence Brief: The Impacts of COVID-19 on Mental Health Needs